Do you ever ask yourself why rebels and jihadists never seem to die in these chemical attacks in rebel held areas Syria, that occur periodically against trapped and hostage-held civilians?
For some reason these "bombs" launched from the sky in "chemical attacks" manage to single out children in particular – the most perfect photo-op for a media outrage. They are immediately and blindly blamed on President Assad.
BBC was not happy to hear ex UK ambassador to Syria tell the truth about Trump's airstrikes. They had not expected a reversal of the anti-Assad rethoric.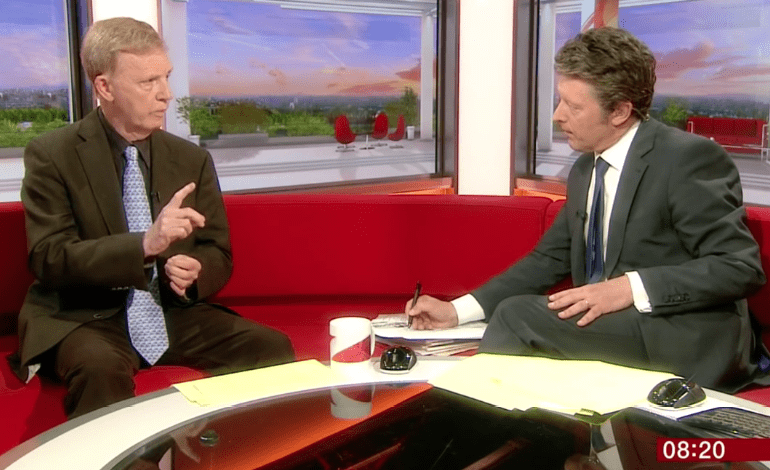 A former UK ambassador to Syria forced the BBC to face the truth about Donald Trump's airstrikes. Peter Ford argues that we don't yet know whether Syrian President Bashar al-Assad used chemical weapons on civilians. We have no evidence either way.
The US claims Assad carried out a chemical attack on his people on 4 April. Without congressional approval, Donald Trump launched 59 tomahawk missiles against Assad's government in Syria. The US President says the missiles were a response to the disaster.
Any decision of this magnitude should be based on evidence, not impulse. But the ex UK ambassador pointed out that we don't know what happened. We have the US and Russian versions of events, but no evidence either way. His position chimes with the UN special envoy for Syria's. Staffan de Mistura said "we have not yet any official or reliable confirmation" of who was responsible.
"Defies belief"
Then Ford went further:
Assad may be cruel, brutal but he's not mad. It defies belief that he would bring this all on his head for no military advantage… It would anger the Russians. 
The disaster hit just as US officials were openly talking about prioritising the removal of Daesh (Isis/Isil) over regime change. That represents a big diplomatic win for Assad. So Ford questions why the Syrian President would want to risk such a political gain by attacking his civilians, rather than his opponents on the battlefield. Ford claimed that US intelligence officials arguing Assad did carry out the attack have an "agenda".
"A gullible media"
Trump's bombing is the first time the US has directly and intentionally attacked the Assad regime, but reportedly the 7,899th US strike in Syria. Ford argued Trump's bombs made it not less, but more likely that chemical weapons would be used:
Trump has just given the jihadis a thousand reasons to stage fake flag operations. Seeing how successful and how easy it is, with a gullible media, to provoke the West into intemperate reactions.
Ford was the UK ambassador to Damascus from 2003-2006. After Trump's airstrikes, Daesh seized on the opportunity and launched an offensive against the Syrian government. Meanwhile, Alternet reports that Western military intervention is the "only hope" for the Al-Qaeda-allied rebels.
Given there is no evidence that Assad carried out the attack, the universal approval for military intervention from our political and media class is concerning. Based on impulse and without evidence, Trump bombed a sovereign nation allied with Russia before even knowing the details of the chemical disaster. And the 'liberal' media went from challenging his impulsivity on a number of important issues to unequivocal support. Cutting through the sabre-rattling pundits, Ford's sober intervention on the BBC is a welcome dose of reality.
"Amnesty Sensationalise to Acquire Donations"
On February 7, 2017, Peter Ford took on Amnesty International after the organisation issued an explosive report titled 'Human Slaughterhouse, Mass Hangings and Extermination at Saydhaya prison, Syria,' alleging that the Syrian authorities were responsible of killing 13,000 opponents of President Bashar Assad at the Saydnaya prison on the outskirts of Damascus.
The human rights group also quoted its sources as saying that Saydnaya became the main political prison in 2011, which was just as false.
"It was already, when I was in Syria in 2006 and many years before then, Saydnaya was the main political prison." Ford clarified. "When they get this level of detail wrong I find it very hard to believe anything at all."
The former ambassador referred to the organization as "the spearheads of liberal interventionism", citing Amnesty International's "sensationalist" reports of the Iraqi invasion of Kuwait.
"Amnesty said that they had verified that claims that Iraqi soldiers had stolen incubators in Kuwaiti hospitals and left babies on the floor to die. Turned out this was a total fabrication…they were gullible and they used it and it helped to justify the Iraqi war." Ford said.
"This is the new way of picking up the white man's burden — you go around changing regimes that you accuse of human rights abuses."
Amnesty International has been repeatedly criticized by some countries, including Russia, the United States and China, for spreading misleading information and acting as an instrument of propaganda and information wars. In 2013 the International Business Times wrote that in the past Amnesty received funds from the European Commission, from the governments of the Netherlands, the US, Norway and, in 2009, it received 2.5 million euros from government entities.
"Amnesty is well known in the NGO community for being very aggressive, for being sensationalist and for being focused very much on its own fund-raising." Ford said.
"They have become part of the liberal, elite establishment; part of the vanguard of liberal interventionism. They have lost their way. And this latest report will do them no credit."
***