Police confirmed a 17-year-old student carrying a rifle, two handguns, and two grenades had been arrested in connection with the shooting at the Lycée Alexis de Tocqueville, in the southern town of Grasse. A second person absconded.
A rifle, a revolver, a pistol and GRENADES. And it's "not" terror related. It's now called "a dispute". Good to know.
.
.
Grasse shooting: Headmaster and children among at least eight victims injured in attack at French school
Authorities say incident believed to be personal dispute and is not terror-related.
The Independent, Lizzie Dearden
16 March 2017 13:36 London
At least eight people have been injured in a shooting a school in Grasse, southern France.
Police have arrested one person on the scene at the Lycee Alexis de Tocqueville, where the headmaster was among those shot.
The suspect is a 17-year-old student, who was armed with a rifle, a revolver, a pistol and grenades according to local newspaper Le Dauphiné Libéré.
Emmanuel Ethis, the rector of the Nice Academy educational district, said two children had been injured and their parents were informed.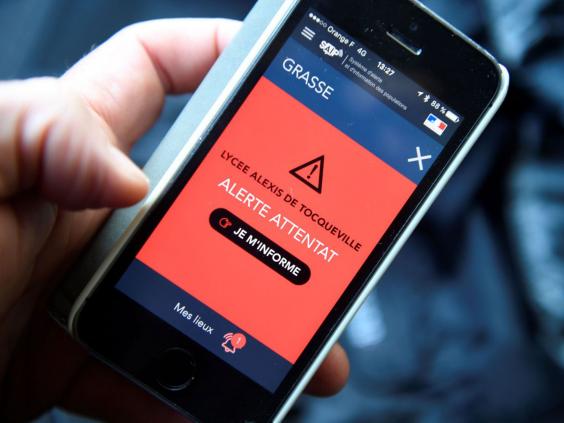 A French government attack alert relating to a shooting at a high school in the southern French town of Grasse. (AFP/Getty Images)
A witness interviewed by France Inter radio said the students heard a bang and took cover under classroom tables.
"I went to close the windows and saw a guy who looked at me in the eyes. He seemed to be a student and not very big. He shot in the air and ran away," the student said without giving his name.
Explosion at IMF offices in Paris
Christian Estrosi, president of the regional council of Provence-Alpes-Côte d'Azur, said the school principal was injured but gave no information on his condition.
"I have just been talking with Francois Hollande," he added. "Several people have been injured but the exact circumstances remain unclear at this stage."
A spokesperson for the local council in Grasse said the incident resulted from a personal dispute and was not believed to be terror-related.
A police source told Reuters two students had been involved in the attack.
"One of the two was arrested and the second fled," the source said. "There was panic and the students took refuge in the (neighbouring) supermarket."
France's elite "Raid" armed police force were on the scene, with the education minister expected to arrive later in the afternoon.
The incident triggered a red alert on France's Vigipirate terror warning system, with all schools in Grasse put on lockdown as a precaution.
A spokesperson for the French interior ministry said a "public security event" was underway at the school and asked people to follow the instructions of local authorities.
"Do not pick your children up from school," read a message to local parents. "They are being taken care of by school staff and emergency services."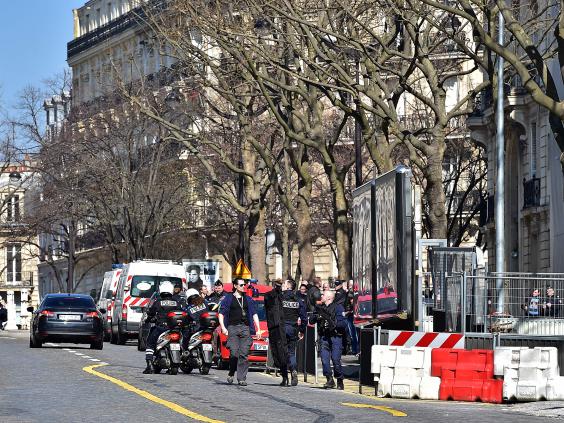 French Police officers secure the scene near the Paris offices of the International Monetary Fund (IMF) in Paris, after a parcel bomb exploded in the premises (Getty Images)
The incident came shortly after an explosion at the International Monetary Fund's offices in Paris, where a suspected parcel bomb injured a woman.
France has been under a state of emergency since Isis militants massacred 130 people in Paris in November 2015.
The country has since been hit by several atrocities inspired by the terrorist group, including the Nice lorry attack and murders of a police officer and Catholic priest.
The attacks have put security at the top of the agenda for France's upcoming presidential election, where centre-left candidate Emmanuel Macron is predicted to beat far-right leader Marine Le Pen.