Thousands of refugees successfully sue German government over partial asylum status
Around 90 per cent of the appeals against 'subsidiary protection' orders have been successful.  
Caroline Mortimer
The Independent Online, Tuesday 18 October 2016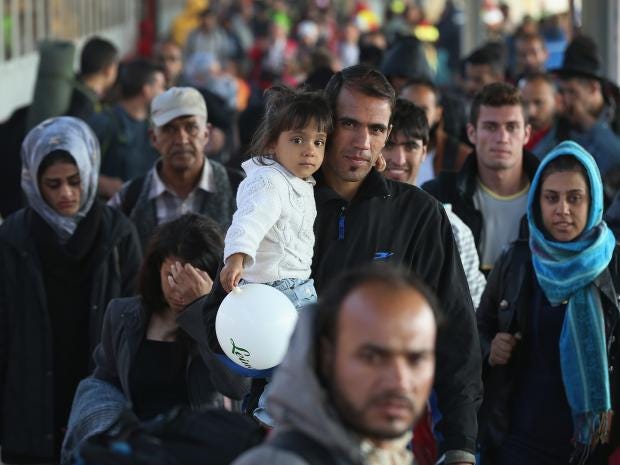 Around 1.1m refugees arrived in Germany in 2015
More than 17,000 refugees in Germany have sued the government for not giving them full refugee status – and most have won.
Since an attempted crackdown on the number of migrants coming to the country earlier this year more and more refugees are being given a qualified form of asylum called as "subsidiary protection" from the Federal Office for Migration and Refugees (BAMF).
Although people with this status are safe from deportation they face several key disadvantages in comparison to those with full refugee status.
These include a two-year ban on their families coming to join them and a speed up deportation process for those who are not given a permanent right to remain agreed at the end of January.
It followed a major backlash towards Chancellor Angela Merkel's "open door" policy which saw 1.1m refugees arriving in the country in 2015.
A mass sex attack against women in Cologne during the city's New Years Eve celebrations which blamed on refugees – even though only three of the 58 men arrested where recent asylum seekers from Syria or Iraq – prompted a sustained growth in support for far-right anti-immigration parties.
One such party, Alternative Für Deutschland, triumphed in the Berlin local elections last month by winning enough votes to enter the state parliament for the first time – their 10th regional parliament since the party formed in 2013.
The party's leader has previously called for refugees to be shot if they try to cross the border.
But in the first eight months of this year 90 per cent of refugees who challenged their new limited status in Germany's administrative courts have won full protection, German newspaper Süddeutsche Zeitung reported.
The majority of these refugees – around 15,000 – have been Syrian.
Before March this year German authorities processed Syrian asylum claims speedily by offering them full protection en masse.
But since March, Syrians have had to apply for asylum individually – a process which is far more time consuming and bureaucratic – and around 60 per cent only received subsidiary protection.
Die Linke MP Ulla Jelpke said the BAMF's attitude was "an intentional strategy of disenfranchisement and deterrence which sacrifices humanity" but the Interior Ministry rejected the accusation that it had put pressure on the body to reject refugees.
A spokesman said many do not full the criteria of facing possible persecution in their home country to qualify as a refugee under the UN's convention.