God works in mysterious ways….
Allah's wrath and humor. Funny thing is that the Muslims look pretty conservative too at this mosque. They've encountered a pest almost as persistent as they are.
After the bee stings you its stinger falls out and it dies. Ironic that a group of Muslims were just attacked by Suicide bees. AND it happened on April Fool's.
.
.
Bee Swarm Attacks Members at Phoenix Mosque
by Fox News Insider
Posted: Apr 02, 2016
A swarm of bees descended on a mosque in Phoenix, Arizona on Friday, stinging nearly two dozen people and sending firefighters out with foam.
More than 20 people were stung, with one hurt so badly he had to be hospitalized, Fox 10 reported.
"Every once in a while, you can see a member kind of come out, use whatever they can find, and still shovel out heaping piles of that foam that is inside their place of worship right now," Marcy Jones reported from the scene.
Mosque members also had to hang their carpets out to dry after the horrifying incident.
Experts say the attack was unsurprising as it is currently the height of "swarm season."
They're warning anyone in similar troubling situations to not take on the bees themselves.
"What people just need to understand is they cannot outrun them, they're not going to sink under water and stay away from them, they're not going to just knock them off," Joseph Mikesell told Fox 10.
"If you see bee activity get inside, don't try and take care of it yourself, contact a professional and let us take care of the situation."
.
….
… and photos: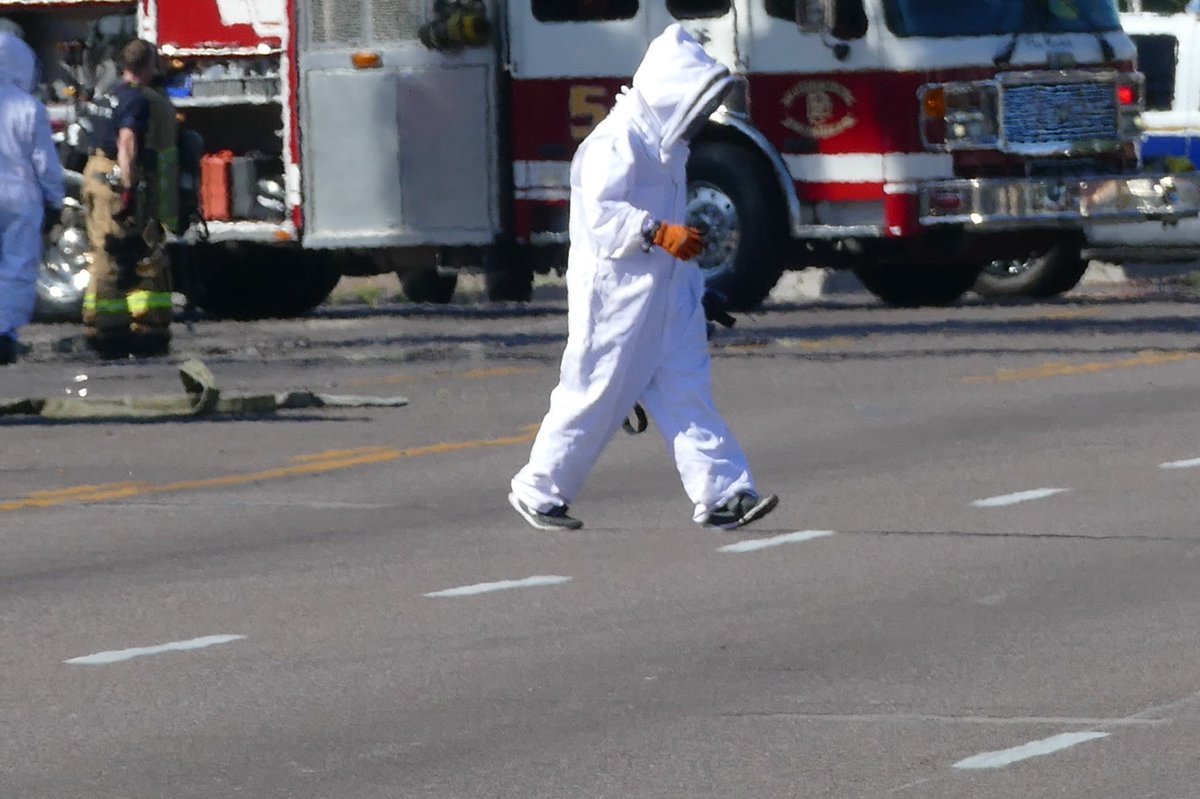 Foam: Firefighters coated the mosque with a foam to quell the bees. Killer bees, officially known as Africanized bees, are a particularly aggressive strain of bee.


Attacked: Covered by blankets, worshipers at the Muslim Community Mosque in Phoenix flee the swarm of up to 20,000 killer bees that attacked them Friday afternoon. The bees' nest was located in the mosque's eaves.

Nest: The nest, in the building's eaves, is thought to have been disturbed by the building's speaker system. Bees build new nests around this time of year, and it is suggested people check their homes once a week.


Stung: This man told Azfamily.com that he was stung five times on his face. Experts warn that trying to swat away bees will only make them angrier, and that instead people should hide in enclosed spaces such as cars.